FREE AND BOUNDLESS COLLABORATION
Inspire the power of efficiency with Ultra-HD Display, Remote Collaboration, Intelligent Writing, and Interactive Mirroring with Extraordinary Performance. MAXHUB X3 conference flat panel is an innovative efficient office equipment, with writing, presentation, and collaboration functions.
Through breaking the barriers of conventional meetings and cooperation, MAXHUB X3 makes you work efficiently and collaboratively by wirelessly connecting multi-terminals and multi-person.
We have comprehensive demonstration rooms equipped with the latest technology, fully equipped workshops and state of the art training facilities. Treyfin strongly supports staff development and growth, thus our workforce is fully skilled with knowledge in the latest technology to offer our clients world-class service at all times.
MAXHUB X3 STANDARD INTERACTIVE DISPLAY
The Maxhub X3 Standard display is an interactive UHD screen featuring extensive Collaboration and Whiteboarding software and Wireless connectivity which form part of the package.
These impressive screens offer an all-inclusive solution; camera, microphone, front-firing speakers, Intelligent Graphic and Writing Recognition, Interactive Mirroring for up to 4 devices, Pre-loaded white boarding and interactive collaboration software and even Cloud storing. MAXHUB X3 Standard series is easy to set up and is the perfect Collaboration Solution for Smart classrooms and Boardrooms.
ULTRA-NARROW BEZEL, ULTRA-LARGE DISPLAY AND ULTRA-CLEAR IMAGE
MAXHUB's 4K Ultra-HD large display with ultra-slim bezel delivers a wider viewing angle for an immersive experience.
Anti-glare technology assures the sharpness of imagines, even in a bright environment:
• 4K Anti-glare UHD display
• 13mm ultra-narrow bezel
• Available in 55″, 65″, 75″ and 86″ screens
Remote collaboration and Teleconferencing to any geographic locations:
• 8-megapixel camera
• 6 array microphones
• 8m voice range
• Front-firing speakers
• Screen sharing
• Remote mirroring
• Real-time synchronous writing
INTELLIGENT GRAPHIC AND WRITING WITH INFRARED TOUCH TECHNOLOGY
Innovative infrared touch technology ensures a smooth writing experience. Present your ideas and content professionally with MAXHUB's intelligent Graphic and Writing recognition, with user-friendly image and table insertion.
WIRELESS MULTI-SCREEN INTERACTION
Wirelessly share images and documents on the large display through PC, smartphones, and tablets, show up to 4 mirrored images simultaneously. A key point is the fact that your presentation can be controlled from your seat with any mobile device, even when presenting from your Laptop. Connecting and presenting with MAXHUB X3 is remarkably convenient. Communication and collaboration is encouraged through easy participation, resulting in the most effective meetings.
Extraordinary performance, excellent quality:
The 7th Gen Intel CoreTM processors equip the MAXHUB X3 with great performance and reliability. MAXHUB supports Android 7.0 / Windows 10 dual-system and includes up to 16GB DDR4-RAM. The MAXHUB's X3 Standard series is compatible with most applications.
• Powerful dual-system
• Core i5 or i7 processors (Windows included)
• 16GB RAM
Through MAXHUB's ease of use and convenient connection, efficient meetings become a reality.
MAXHUB WIRELESS SCREEN SHARING DONGLE
With the MAXHUB Wireless Screen Sharing Dongle, you can easily present and collaborate through wireless mirroring. The dongle eliminates the need for cable connections. Simply plug the dongle into the USB port of your PC to mirror and share your presentation straight onto the MAXHUB display.
• Autorun driver
• Support Windows 7, macOS 10.10 or later
• Compatible with USB 2.0 or later Type A connector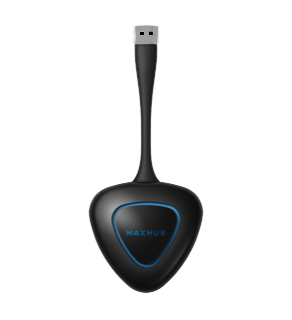 INTERACTIVE OPERATION BETWEEN TWO SCREENS
When you use the MAXHUB Wireless Screen Sharing Dongle to mirror your presentation onto the MAXHUB display, you will be able to control your presentation from the MAXHUB Touch Surface. Open documents, flip pages, zoom in on content and Annotate directly from the MAXHUB touch surface.
One Click to Select Which Presentation (Or Multiple) to Display
When presenting wirelessly to the MAXHUB screen, multiple devices can connect simultaneously (up to 4 separate devices). A simple "on screen" user interface allows you to switch between the different presentations, select which one to display or even split up the display surface to show multiple presentations.
There is no need to download any application or software when using the MAXHUB Wireless Screen Sharing Dongle.
MAXHUB MIRRORING BOX
4K decoder technology offers you extremely colourful and sharp images. Upgrade your conventional conference room. MAXHUB mirroring box can project PC, smartphone, and tablet to big screen*. Only with one Mirroring Box*, upgrading can be done.
AUTO-TRACKING CAMERA
Perfect Combination of Auto-Tracking Technology and a Compact PTZ Camera.
Your Most Committed Follower:
During an event, presenter, lecturer, or speaker needs to be free to move around in every direction. To ensure professional level of recording, CI-T21H combines Full HD camera with precise auto-tracking, auto-zoom and auto-focus functions, in order to always keep the presenter in close-up.
KEY FEATURES
Professional Video Quality for Various Indoor Scenarios
• Auto-Tracking and Auto-Zoom
• AREC CI-T21HCamera utilizes AREC's motion-sensitive and smooth tracking technology, ensuring that presenter is always in close-up, even if that person turns back to the audience or walks back and forth.
• Easy Implementation for Any Type of Indoor Scenario
Combining RJ-45, HDMI and USB outputs, AREC Auto-Tracking Camera can be used with Media Stations for Lecture Capture, any Video Conference System, either HW or SW-based, and even stream to a Live Streaming Service directly.